The Ray White Allens, Whangarei, Bream Bay and Tutukaka teams recently hosted their 15th annual Ray White Allens Kids' Triathlon.
The Ray White Allens Kids' Triathlon is an annual event held on the foreshore of Whangarei harbour – proudly sponsored each year by the Ray White Allens team of offices.  Open to kids aged between 7 and 15 the triathlon is about getting out there and having a go – in a positive family friendly environment designed to encourage active participation in young Northlanders. This years event was held on Sunday 22 March and attracted close to 600 participants, plus thousands of supporters, from all across Northland.
"Kids enter on their own which means that they swim, bike and run (in that order). It is truly an amazing day out for the family… There is nothing as uplifting as being part of a community day where kids get to be kids and parents, grandparents, sisters, brothers and mates get to cheer, whistle and yell "Well done!" from the sidelines!" said Vanessa McKenzie – Co-Director or Ray White Allens.
Supported by the sales, property management and administration staff (who volunteer as marshalls on the day) the Ray White Allens team are proud that this continues to be the much anticipated annual event it has become.  The event is now organised by Sport Northland and supported by a host of local business including: HotPrintz, MoreFM, Kamo Lions Club, and OfficeMax (to name but a few) and remains known as a 'Ray White Allens' event through the financial, marketing and logistical support offered by Ray White Allens Whangarei.
John Monteith, one of the business owners of Ray White Allens Whangarei commented that "As a family orientated company we are delighted to be running an event which helps empower the children of today to become the fulfilled and successful adults of tomorrow and we are committed to the longevity of this wonderful community event."
Check out photos from this event on the Ray White Allens Facebook Page.
The ten day long Arrowntown Autumn Festival officially kicked off last Saturday with it's annual Street Parade led by Ray White Arrowtown.
Being major sponsors of the Arrowtown Autumn Festival the team were invited to lead the annual Street Parade in their Ray White car.  It was a perfect and picturesque day outside the Ray White Arrowtown office as Buckingham Street came to life with a parade full of fabulous floats and colourful characters.
The Arrowtown Autumn Festival has been running since 1985 and attracts large numbers of locals and visitors alike.   Each year people come in droves to take in the stunning scenery and see festival attractions such as the street parade, the Arrow Miners Band play on the Old Red truck and the Buckingham Belles Can Can at the lunchtime entertainment. Many long held festival traditions like the Art Exhibition, the Grand Variety Concert, the Vintage Cars, the Shotover Country Music Concert and the Arrowtown Entertainers Musical remain very popular today. The festival has grown over the years and now sees around 50 events spread out over the 10 days.  It still remains very much a community festival with many locals and businesses also getting involved – whether it be through performing, volunteering or in some other way.
"Community groups and local businesses have been hard at work on their creations this year. It's exciting to see, and I believe it is important we get involved and give back to our local community." said Richard Newman of Ray White Arrowtown.
The Ray White Arrowtown office is located in Arrowtown's historic main street and is the oldest real estate company in Arrowtown, bringing with it over 65 years of experience in real estate. Long established in their community, in addition to being a major sponsor of the Arrowtown Autumn Festival, Ray White Arrowtown also support the Arrowtown Bowling Club, Arrowtown Golf Club, Arrowtown Rugby Club, Arrowtown Primary School as well as making regular contributions to Ronald McDonald House.  For over 15 years they have also supported the annual Mens Bowling Tournament in town and the annual Ladies Golf Day – which attracts over 150 entrants and provides some great prizes each year.
On March 14th Ecofest North hit the ground running with Ray White North Shore by its side. As well as financial support, the Ray White North Shore zone got their hands dirty by joining the 40+ volunteers who ran the Ecofest Family Fun Day held on Eskdale Reserve, behind the Kaipatiki Project Environment Centre. Over 1,500 guests and participants came from all over the North Shore to partake in a range of fun environmental activities, aimed at educating and inspiring all to live a happier, greener way of life. A heart-warming video of the day can be viewed by clicking here.
In addition, branches have lent further support by hosting Eco-design seminars in their offices, as well as getting dirt beneath their nails in a community planting day, and supporting a beach clean-up at Long Bay Regional Park. Festival Manager Toni van Tonder says, 'The Ray White North Shore collective has been hugely supportive from the start. Participation in the 96+ Ecofest events has doubled on last year and this is due to the commitment and energy of Ray White. With their help we've become more ambitious, and by kicking the whole thing off with Ray White beside us during the opening day event, this has proven to be a truly successful collaboration."
Ecofest North is an annual event co-ordinated by the Kaipatiki Project. Further information can be found at kaipatiki.org.nz/ecofest.
Ray White Takanini, together with over a thousand families, school kids, dogs and walkers, gave up their Sunday morning sleep-in to participate in this year's 6th Sunrise Walk for Hospice at the Auckland Botanical Gardens. They were rewarded with the most spectacular sunrise and a stunning kaleidoscope of colour, as young and old from the multicultural South and Southeast Auckland, dressed in every colour of the rainbow.
Sue Douglas of Ray White Manurewa and Takanini said she is proud to support this wonderful charity as part of Ray White's ongoing commitment to the community. "Totara Hospice South Auckland, is a not for-profit organization. It has been meeting palliative care needs of the South and South East Auckland community now for 30 years. Totara Hospice South Auckland is able to provide free of charge care and support for families/whanau of any person living with a life limiting illness in our community. Totara Hospice South Auckland receives no government funding and relies on the generous support of our community through donations and bequests. The Sunrise Walk is a great way to support the hospice and an opportunity to walk step by step remembering and honouring someone you love who may have been touched by the Hospice."
After an invigorating warm up, the colourful crowd took off for a 5 kilometre walk around the beautiful gardens, greeted over the finish line with a free sausage sizzle, hot soup and an extraordinary show of community – with local businesses giving away free apples, tomatoes and freshly cut flower bouquets to the walkers.
Ray White joined in the carnival atmosphere and added a big splash of yellow to the event with their Great Duck Hunt. Walkers got quacking and kept their eyes peeled for the five Ray White yellow ducks hidden around the course. An ecstatic young year 8 student won a yellow Ray White Bike.
This year walkers also had the choice of a VIP ticket which gave them entry to the Ray White VIP Pavilion and included a gourmet breakfast, a glass of bubbles, coffee and goodie bag.
We are proud to announce that with the help of generous sponsors, $32,000 was raised on the day which will help towards continuing to provide day Hospice services, a vital three day a week programme for hospice patients and their families, with sponsorship still coming in.
There is still time to contribute to this worthwhile cause.  Fundraising will run until 21st April – simply visit the Give-a-Little website to help.
Rex and Brianne Bignell, owners of Ray White Beachlands, along with Loan Market broker, Dimitri Kaldelis, together with their teams, supported the annual Pohutukawa Coast beach clean up. With an early start, the team gathered at Beachlands to join a number of other members of the community and businesses to be involved in the beach clean up which each year provides for the community to come together to make the coastline a better play to enjoy, free from rubbish that gathers during the past year.
Brianne Bignell, co-owner of Ray White Beachlands, said that they enjoy being involved in the community events, particularly in the Beachlands area. "We all enjoy a wonderful lifestyle, with the beach and reserve areas being one of the reasons why many families choose to live on the Pohutukawa Coast. We very much enjoy being able to be part of this particular clean up, as we have done each year. This fits in well with our company's values to support the local area."
Tim Obern, Group Training Facilitator with Ray White New Zealand, said "The Ray White Beachlands team, together with Dimitri from the Loan Market Group, made a great combination with their teams in supporting the coastline clean up."
Ray White across New Zealand supports many events, both at a local and national level. As part of our recognition for our members, Ray White has an annual award for community involvement.
Ray White North Shore are proud supporters of Kaipatiki Conservation Project Centre and as such the Ray White Pinehill team were delighted to be part of one of their community initiative, planting trees along the banks of the Alexandra stream in Unsworth on Auckland's North Shore.
The Unsworth Community Planting Day had hundreds of plants supplied to them predominantly from Auckland City Council and the planting event took place during Ecofest in March.
"Unsworth Reserve is a hidden treasure and a fine example of New Zealand's natural beauty. As local residents, we sometimes take these suburban sanctuaries for granted. We are proud to be associated with this worthy conservation project and to be sponsors for the Unsworth Community Planting Day," said Ray White Pinehill business co-owner Jimmy Wu.
Although this was a first time experience for many members of the Pinehill sales team they were not daunted by the intermittent rain or muddy and damp conditions during the day.
They enthusiastically got to work and worked feverishly to get as many seedlings planted as possible. A total of 750 native New Zealand seedlings were planted in three hours.
"We believe that our contribution towards the restoration of the reserve has had a positive influence on the environment and in building our reputation and that of the Ray White brand name," said Ray White North Shore zone chairman Richard Mason.
"The Collective commitment demonstrated by our sales team on Saturday, 21 March is an example of what we can do as a team and the pride we take in what we do, our business and who we represent," agreed Ray White Pinehill business co-owner, Iris Chen.
Megan Jaffe and the team from the Central Eastern network of Ray White offices held White On White Night recently to support the Auckland Art Festival and to also feature the paintings of Pamela Wolfe that were on display throughout the office.
Libby Storey from the Artis Gallery in Parnell presented to those who attended the evening and spoke of how successful the Auckland Art Festival week had become. Supporting local artists with an evening to show in a gallery style paintings formed a truly successful partnership and a special night for those who appreciate the simplicity, talent and beauty from paintings by Pamela Wolfe.
In her address, Megan Jaffe said that in creating the evening and the theme of White On White, was about the invited guests enjoying beautiful artwork and also being able to celebrate the Auckland Art Festival amongst friends and family in a theme that created a stunning evening for everyone who attended.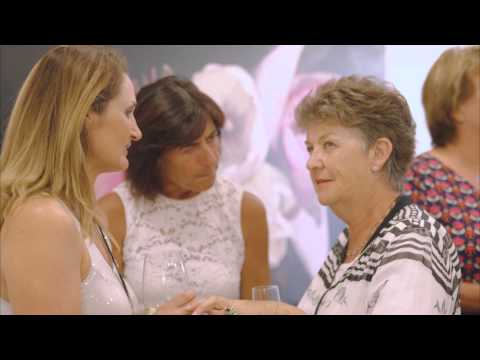 Ted Ingram Property Services, with offices across South Auckland, has welcomed three new shareholders and partners to Ray White Papatoetoe; with the new structure to be known as Noble Realty Limited, which has commenced trading on 1 April 2015.
Ray White Papatoetoe is one of the most successful offices in the Ray White Group and is located in high profile premises on Great South Road. The new partners to join the business have been involved at both sales and finance levels for the past three years since the business was first opened in 2012.
Monty Dsor, Sunil Prasad and Mervin Constantine have joined with Ted Ingram to form the new structured partnership. Monty Dsor and Sunil Prasad are both successful salespeople in their own right and will continue to model their business as well as provide assistance to the sales team generally in the area of skills and development. Mervin Constantine is part of the Loan Market Group and adds value to the team through his delivery of specialised financial advice and services.
Ted Ingram said that the new partnership came from discussions about the success of the Papatoetoe office and the growing market share the business is achieving. "The diverse range of skills that each of the partners bring to the business will see the agency grow in management depth and also leadership."
Carey Smith, Chief Executive of Ray White New Zealand, said "The Group has developed a reputation for welcoming next leaders to the company. The introduction of Monty, Sunil and Mervin shows a willingness of our current business owners to understand the value of succession and the importance of creating futures for our best people."
Noble Realty Limited, known as Ray White Papatoetoe, commenced trading under their new structure from 1st April 2015.
The Ray White Group Results for March 2015 were the second highest in the company's history and were 25% ahead of the same period last year and a substantial increase on the February 2015 results.
March saw the Ray White Group complete 1,353 transactions at an average sale price of $546,402. There was a noticeable rise in the number of listings secured by the Group, which increased to 1,641 and this lifted the overall listing portfolio to a total of 8,382 properties across all divisions.
Carey Smith, Chief Executive of Ray White New Zealand, said "The March results came on the back of a strong listing month in February and the company concentrating and focusing on marketing outcomes during March. The company's productivity per office lifted to a new record high and this resulted in a combined result of the Auckland and Canterbury markets registering record volumes of sales; while for the Group across New Zealand it was our second highest sales month on record."
The top three businesses across New Zealand were lead by Ray White Remuera, who completed $58 million in released sales. Ray White Ponsonby again produced outstanding results to complete $40 million in sales volume, and Ray White City Apartments continued their dominance in the apartment market, completing 81 transactions.
Individually, there were many personal best results for the company and this was headlined by Ray White Remuera, who completed the single highest residential sales for the Ray White Group at $57 million. Across the country; in Northland Ray White Whangarei was the top office and continues to produce market share in excess of 30%. In the Central North Island, Ray White Rotorua completed a personal best month with just under $10 million in sales.  The Lower North Island was Ray White Wanganui again produce an outstanding sales month. Ray White Richmond in the Upper South Island were the dominant business in their trade area; while Ray White Metro, Ray White Prier Manson and Ray White Next Step all completed personal best months in the Canterbury region. Ray White Dunedin, Ray White Wanaka and Ray White Arrowtown in the Lower South Island all produced individual record results.
The Ray White Group this month will launch the Real Insurance campaign, which will provide landlords with an opportunity to have their properties insured for a period of 12 months through  participating Ray White property management offices.
The Ray White Richmond office recently gave away a Hyundai i20 to one lucky customer after their property, along with another 140, was listed and sold last year.
Business owner Brent Sturn said "Our core product is not property, it is trust. Every client who markets a property through our office has entrusted one of their most valued and precious assets into our hands. The decision to market a property with our office is not taken lightly, and we sincerely appreciate the trust that our clients have placed in us". During the promotion the Richmond team received a lot of support with Brent thanking specifically Hyundai, The Wooden Spoon Café and his team who really got behind the promotion.
At a packed Wooden Spoon Café recently, entrants into the draw waited eagerly to see if they going to be the lucky winners. There could only ever be one winner on the night though and Brent was quick to congratulate Dianne MacMorland as he handed her the keys to her new car.
Dave Price, Ray White New Zealand's South Island Group Facilitator said "It is always great to see our business owners and their teams engage into the community and this promotion certainly did that. The response was huge and the feedback reflects well on our Richmond office as one of our most successful offices in the upper south island."
Ray White Richmond is part of a strong network of offices for Ray White in the Upper South Island with seven other businesses located in the area. Ray White Richmond can be contacted through their website rwrichmond.co.nz or by visiting their offices at 257 Queen Street, Richmond.