Yesterday was the start of the Ray White International Group Cutting Edge Conference which is attended by the top businesses throughout New Zealand, Australia and Indonesia. This year there are over 150 delegates. Brian White, Chairman of the Ray White Group, opened the conference and made particular mention of the continued outstanding results by New Zealand members.  The conference is to launch a number of new initiatives and ideas to top business owners in the company and it is also presented on a platform of case studies and lessons that have been learnt from the Group's members' experiences during the past 12 months.
Last night the annual Cutting Edge dinner was held at the Museum of Contemporary Art in Sydney. During the evening members were recognised in several qualitative award categories. Several New Zealand business owners received awards including Tony McPherson from the McPherson Group in Christchurch who was recognised by Sam White in receiving the highest net promoter score for customer satisfaction in the international group for 2013.  In the category of new ideas, presented by Mark McLeod, Gower Buchanan and Simon Damerell from Ray White Ponsonby were recognised for their collective commitment and their sharing of their Welcome to Ray White Ponsonby document which details value that customers can expect when experiencing interaction with Ray White Ponsonby and their leadership team.
The top award for the evening was the 2013 Cutting Edge Award. Brian White spoke of his delight in recognising Megan Jaffe from Ray White Remuera as a business that has gone through consistent and continual transformation from a market share of 3.8% six years ago to today holding 27.1% of the Remuera market.  Brian White went on to say that Megan's leadership skills and the value she offers to her team have resulted in outstanding performance with the highest level of productivity for an individual office. Megan Jaffe of Ray White Remuera said she was thrilled but very humbled to win the award. She said it reflects her team's commitment to providing outstanding service to clients and this has had an ongoing effect in the growth of the business.  Megan said she was very proud of her team, including the administration and personal assistants who enable her team to be at the highest level of productivity, which provides great outcomes for all those connected to the business.
The Ray White Cutting Edge Conference is held annually by invitation only and provides the planning platform for the company going into 2014.
.
.
The Ray White Group has increased their property sales for the month of November 2013 by 8% on last year's November result; however the sales are down by 5% on October 2013 results.
The recent introduction of the LVR changes put into place by the Reserve Bank have had an impact on the ability of first home buyers to purchase property. Ray White has also seen investors holding off from purchasing while they realign their borrowing capacities. This has had a direct influence on the average sale price, which has lifted to above $490,000 and is an 6% rise for November – the largest single rise of property prices in the last five years. The rise is directly attributed to the consistency of the middle and upper markets and the fall off in the first home buyer and investment market.
Overall there was an increase of controlled stock by 1% on last month's total property listings. The company secured 2013 properties by controlled appointment, with auctions continuing to dominate the method of marketing during the past month.
Carey Smith, Chief Executive of Ray White New Zealand, said "While the sales for November could easily be seen as being consistent; there has been a definite drop away of first home buyers and investors in the market. This has meant sale prices have increased however the number of properties available on the market has also increased. This is a rare combination that means we may see an over supply of lower priced property given that first home buyers and investors are at at least half the level of this time last year.
Ray White Remuera was the top office for the company, completing their highest ever sales result with over $50 million in property sales. Ray White City Apartments again recorded excellent sales with 77 properties completed for the month. Ray White Ponsonby were the number three office trading in excess of $20 million in sales.  Ray White Metro in Christchurch and Ray White Howick completed outstanding months to be number four and number five respectively in the Ray White Group.
The Northland zone continues to show year-on-year increases with the growth of Ray White now having 13 offices throughout the region. The top office was Ray White Whangarei. Ray White Kerikeri recorded a record sales month at just over $6.5 million.
In Auckland, outside of the top offices in New Zealand, Ray White Broadway, Ray White Kohimarama, Ray White Ellerslie and Ray White Pinehill all had outstanding months.
In the Central North Island, Te Awamutu recorded a record sales month completed $7.5 million in property sales. Ray White Hamilton and Ray White Rotorua also had successful months.
The Lower North Island zone was led by Ray White Wanganui with over $5 million in sales. Ray White Lower Hutt and Ray White Palmerston North also recorded strong sales months.
Ray White Richmond were recognised as a top 10 office in New Zealand with close to $11 million in sales. Ray White Nelson and Ray White Greymouth also completed outstanding sales month.
In the Canterbury region, Ray White Metro sold over $15 million in property. Ray White Rolleston and Ray White Full Circle both had above average months.
In the Lower South Island, Ray White Dunedin was the top office in the zone. Ray White Wanaka recorded a record sales month with over $5 million completed. Ray White Invercargill also completed a high level of sales.
The Ray White Group opened two new offices during the month of November, being Ray White Millwater on the Hibiscus Coast and Ray White Kelston in West Auckland.  Three new offices have been confirmed to open in early 2014, being Ray White Westport, Ray White Takanini and Ray White St Heliers.
.
Phil Horrobin, owner of Ray White City Apartments, Ray White New Zealand office of the year, opened Ray White Broadway in August 2012.  The Broadway office is situated centrally in Newmarket with agents who specialise in property from Parnell to Epsom.  These well serviced areas are made particularly desirable by the high achieving public and private schools for which they are zoned.  Phil is of the view that his businesses can contribute to these districts by supporting the local schools, building lasting relationships throughout the broader community and making the area a better place for families.
Ray White Broadway agent Martin Morgan has recently connected with the local Newmarket Primary School.  The annual school Fiesta, an important part of the Newmarket Primary calendar, was held on Saturday 16th November.  This year Martin got involved by arranging a colouring competition during the week leading up to the Fiesta.  Staff and students assisted Martin with getting things set up by creating stands, entry forms and signs to promote the competition.  With the contest divided into two age groups, entrants were required to colour in a picture of a Ray White house with children in the older age category colouring a slightly more detailed picture.
At the assembly before the Fiesta, well-known local artist Nicky Foreman judged the competition and presented prizes sponsored by Ray White Broadway.
During the Fiesta, along with Ray White Broadway Facebook mascot Mr Frog, Martin Morgan and his assistant Sarah Codling manned a high profile site which a good volume of visitors circulated through.  The Fiesta included art for sale, a sand saucer competition, an international café and an animal petting zoo.  Martin and Sarah held a Yellow & White Jellybean Guessing Contest with a jar for children at a cost of 20 cents per guess and a jar for adults at 1 dollar per guess.  They also held a raffle for an electronic weather station, with all proceeds going to Newmarket Primary.  Martin felt enthusiastic about the day, commenting that "The response to the fiesta in general was overwhelming with all the children showcasing great skill in creating fantastic items for sale, such as place mats, key rings and Christmas decorations."
Following on from the completion of the event, the 1st and 2nd prize winners of the colouring competition were displayed in the Ray White Broadway showroom window for the weekend.  Martin commented that "It was great to see the number of children who were brought to the window to look at the pictures with many parents stopping to browse at available properties."
Dr Wendy Kofoed, principal at Newmarket Primary School expressed her appreciation for the support received from Ray White.  "It was great to have Martin's involvement in the Fiesta. Ray White is now part of the Newmarket community and we are always keen to strengthen our community bonds.  Our students loved the colouring competition Martin organised with the help of a group of student leaders, and that a professional artist was the judge.  The winners of the competition were certainly appreciative of their prizes and the jellybeans for all entrants were spot on too."
Please click here for CEO Comments by Carey Smith that are now posted for November 27, 2013
Past comments are filed here under Previous Comments.
.
Well-known realtor Ray White and Rotary Club Queenstown have joined forces launching a Christmas gift drive to enable struggling locals to enjoy a better festive season this year. Locals are being asked to contribute new gifts for all ages to The Little Ray of Giving initiative which aims to provide presents and special treats for families facing challenges in the community. Queenstowners are being urged to help by donating a wrapped present and popping it under the Christmas tree in one of three Ray White offices in Queenstown, Arrowtown and Frankton.
Ray White Queenstown principal Bas Smith described the gift drive as "a simple, yet effective way for locals to give to others this Christmas".
"It's really straightforward and people can really make a difference to someone who might otherwise go without this festive season," he said. "All people need to do is purchase a small gift for someone of any age and gender. It couldn't be easier. "In a town like Queenstown it's easy to think that financial hardship doesn't exist, but we know that's simply not true. "There are a number of children, families and even individuals in the Wakatipu who will spend Christmas alone and with very little, while others will have more than they need."
People can donate newly-purchased gifts such as age-appropriate toys, clothes for children, families and individuals, as well as speciality non-perishable food, toiletries and household goods and other items which "would mean the world to a family in need". Organisers are also asking local businesses to help where they can and will "willingly accept" kind donations from those who can donate goods, services and activities to a deserving local family.
Queenstown Rotary Club President Peter Laurenson said he "welcomed the idea" which is "extremely important to many in the local community". "There'll be many Queenstowners who'll be doing it hard this Christmas. The Little Ray of Giving enables many locals – including families and those on their own – to have a decent festive holiday with a little joy," said Mr Laurenson.
For the inaugural year all gifts donated will be distributed by the Rotary Club to Happiness House Queenstown
. Established in 1991 Happiness House is a not-for-profit community support centre which provides much-needed services and support for those living in the Wakatipu District. While it works with a number of local organisations and funding streams it relies heavily on donations and volunteers to ensure everyone in the Wakatipu forms an integral and important part of the community.
Happiness House Manager Karen Stuart said the gift drive would go a long way to helping some local families have a "better than normal Christmas". "I don't think people realise how even the smallest of gifts can mean the world to someone. Even the basic items most of us take for granted can be a huge help to someone experiencing hard times. "There's an underlying number of locals in the community facing a variety of challenges and The Little Ray of Giving drive is a really great way for those more fortunate than others to help," said Ms Stuart.
All gifts must be new and unused and can be taken to the Queenstown office on Church Street, the Frankton office by the roundabout in Frankton Village, or the Arrowtown office on Buckingham Street. "People just need to identify if the gift is for a male or female and the age range of the recipient and thanks to the Rotary Club of Queenstown their gift will be delivered to a local family who will appreciate the lift to their festive season," said Mr Smith.
Ray White have over 50 offices collecting gifts for disadvantaged children in their respective communities across New Zealand in December 2013.
Source: http://www.voxy.co.nz/national/queenstown-ray-white-and-rotary-bring-joy-locals-need/5/174865
.
Ray White Golden Bay owner and operator Billy Kerrisk has been named the 2013 Josh Phegan and Property Press Changed Agent of the year in New Zealand.
Billy was presented her award recently in Queenstown by Bernadette Smith of Property Press.  The prestigious award recognises local agents who have made major changes to boost their personal business and created fantastic results.
After an extensive review of the 30 plus entries by the expert panel of judges, Billy was announced one of four finalists and invited to present her story at the Real Estate Blue-Print event in Queenstown. Two out of the four finalists, Billy Kerrisk and Nicola Chambers, were from Ray White New Zealand.
The awards panel of Josh Phegan and April Forbes from the Josh Phegan Company, Director of Cobden and Hayson Matthew Hayson and Pat Houlihan, the General Manager of Property Press New Zealand, heard each finalist's personal story of growth and success within the property industry.
Together the judges and audience voted Billy the Changed Agent of the Year for 2013. Billy's sales record is proof of her hard work; of the 50 sales so far this year in her geographical area, Billy has sold over 20 of them.
.
.
Just on 12 months of hard work has resulted in one of the most successful community programmes run by an individual real estate office. Ray White Beach Haven purchased a 1940s house in Rangatira Road in Beach Haven with a plan to renovate and resell the property to raise funds for Beach Haven Plunket, who were in need of better facilities to support their local community.
After purchasing the property then began the hard work and through the support of over 40 sponsors, the property was finished and auctioned on 21st September. A large crowd came for the auction including Dream Home supporters, sponsors and volunteers. Also in attendance were members of Plunket who were looking forward to a successful auction. Tim Obern from the Ray White Group auctioned the property, with several active bidders. The home was sold under the hammer for $665,000.
Glenn Carpenter, on behalf of the Ray White Beach Haven team, said that the end result for the House of Dreams was triple their initial goal with a result that raised a total of $145,000 for Beach Haven Plunket. He went on to say that although the money was the driving factor for the outcome of the auction, the support of the sponsors, volunteers and the Ray White team made it worthwhile to be able to engage with the community and see such generous support and the added bonus was to see a new family take possession of the home that gave so many people such pride in being part of.
Carey Smith, Chief Executive of Ray White New Zealand, said "The House of Dreams for Plunket on behalf of Ray White Beach Haven was a testament to the commitment that Glenn Carpenter and the team at Ray White Beach Haven put into the success of the House of Dreams during the past 12 months. What was always going to be an ambitious programme did take extraordinary effort with an outcome that certainly reflected the commitment that was put into the property by all those involved."
To see the video of the House of Dreams auction please click here.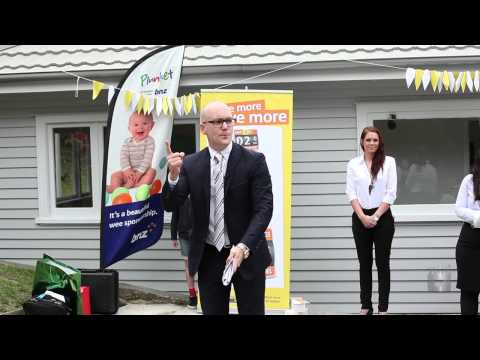 Ray White Whangamata recently hosted the inaugural Ray White Golf Day at Whangamata Golf Course on behalf of Ronald McDonald House. The day was part of an overall community and fundraising programme run by Ray White Whangamata. Over 100 golfers participated in the inaugural event in groups of four.
Steve Morrison, business owner of Ray White Whangamata, said that the day had been a huge success in all respects. He commented that the spirit in which the day unfolded, including some good shots on the golf course together with some unusually bad shots combined with a lot of enjoyment for those who were actively part of the day. "We were also able to acknowledge Ronald McDonald House and St Johns Ambulance with donations via auctions and raffles to support these causes who do such wonderful work within the community."
Wayne Howett, Chief Executive of Ronald McDonald House, attended the golf day and spoke on behalf of the House, acknowledging the wonderful support and effort of Ray White Whangamata in holding such a successful day.
Overall the funds raised on behalf of Ronald McDonald House Auckland totalled $9,000 and Wayne acknowledged the support of those who attended and said that the monies will go towards those who stay at Ronald McDonald House. "During the past 12 months over 200 families from the Thames and Coromandel districts have stayed at the House and so the money raised was a valuable contribution to the continuing need to support those who are less fortunate than others."
Trish Morrison, joint business owner of Ray White Whangamata, acknowledged those who helped throughout the day, in particular the team members of Ray White. She said that one of the other support networks for the area was St Johns Ambulance and how they were proud to be able to raise $2,000 from a raffle on behalf of St Johns.
Carey Smith, Chief Executive of Ray White New Zealand, attended the golf day and called the auction in support of Ronald McDonald House. He said it was great to see the community coming together in Whangamata and acknowledged the work that had been put in by the local Ray White office to hold such a successful event.
In total $11,000 was raised on behalf of Ronald McDonald House Auckland and St Johns Ambulance.
Kawarau River Station near Queenstown is on the market for only the second time in its history. The high-country station at the foot of The Remarkables mountain range has 14 kilometres of riverfront land.
Real estate agent Bas Smith, of Ray White Queenstown, said the station spanned 1826 hectares and its sale offered a rare opportunity. "The west end of the property is located across the river from Remarkables Park town centre and the farm encompasses the majority of the northern slopes of The Remarkables.
"It's entirely north-facing ensuring year-round solar advantage. This, accompanied by the huge water resource, makes for a very attractive proposition. It really is one of the last blocks of land of this nature available so close to Queenstown."
The station's history stretches back to the settler era when it was used as the main route to Queenstown. It has legal vehicle access and an internal road, although access through the farm remains at the discretion of the owner. Historically known as Cone Peak Station, the property boasts an array of natural features, including Rastus Burn and Owens Creek. "Kawarau River Station is a profitable working farm with well fenced flats and river terraces grazing cattle and a red deer stud. "It has the potential to return to farming 2000-plus merino sheep once the current breathing period for the high country to regenerate is complete."
The station has a three-bedroom farm manager's house near Gibbston, a woolshed, deer and cattle yards and hay shed. The historical Morven Ferry Hotel, the base for many a weary traveller, was also on the property.
Source: http://www.stuff.co.nz/southland-times/news/9392551/Rare-chance-to-buy-Remarkables-station

On behalf of Gary Brown Realty Limited, Ray White is pleased to announce the opening of their 136th office at Millwater, located in Silverdale, north of Auckland.
The opening of the office is the second for Gary Brown Realty Limited and was celebrated last night with over 100 people in attendance. The evening was hosted by Gary Brown with his business partners Glen Stevens and Cindy Shine.
In his opening comments Gary shared his vision for the business, which is to create relationships with the local community. He hopes the new office serves the intention of being able to host events of interest to homeowners in Millwater and on the Hibiscus Coast. Gary spoke of his pride in bringing the opening of the new office together and acknowledged his business partners who have played a key role in the expansion of Gary Brown Realty into Millwater.
Helen O'Sullivan, Chief Executive of the Real Estate Institute of New Zealand, said that she was thrilled to be able to assist in the opening of the new office. She spoke of how real estate agencies are linked to the community and how the continued growth in population of North Auckland into areas such as Millwater remain a firm part of the real estate scene and new offices in developments such as Millwater were welcomed by the community.
Carey Smith, Chief Executive of Ray White New Zealand, acknowledged the long standing business tenure of Gary Brown with Ray White. He spoke about the new partnership formed between Gary Brown, Glen Stevens and Cindy Shine. He said "The office was very much into the future and one that would engage with the community given the availability of real time information in a user friendly environment that will bring people up to date with the latest property happenings across Millwater and the Hibiscus Coast."
The office represents the 136th business for Ray White and will form part of the strong North Shore zone together with the businesses in the Rodney district.
Ray White congratulate Gary Brown, his partners Glen Stevens and Cindy Shine together with their team on the opening of their new office at Millwater.
.